Wrestling team purchases new uniforms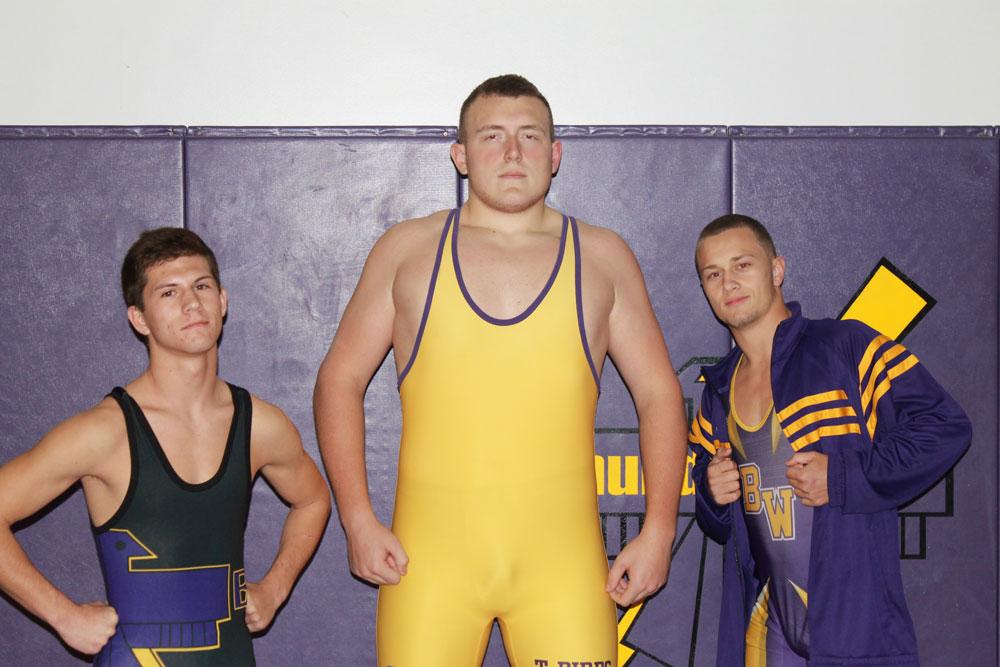 Nov. 12 the Bellevue West Wrestling team started getting back into action with the 2012-2013 season's first practice.
This year Head Coach Jerry Schumacher has a bright perspective on this seasons outcome.
"We're going to be more consistent. We have a lot of guys returning with State experience," Schumacher said.
Seniors Preston Lauterbach, Aaron Estrada, Trey Dasher and Kyle Plambeck, along with junior Jake Gardner and sophomore Anthony Tucci all qualified for the State tournament while wrestling at West.
"It's going to be really hard to replace Chris [Luehring], but this year we have a solid wrestler in every weight class. Last year, teams would move wrestlers around to get easy points on us but they won't be able to now," Schumacher said.
With Luehring wrestling for the University of Nebraska-Kearney this year, The T-birds have State hopefuls in Lauterbach, who placed third in State in 2011, Plambeck who qualified last season but forfeited due to illness, Dasher who qualified his sophomore year, Jake Gardner placed 6th his freshman year and Tucci went 2-2 in the tournament last season.
Since the late 1990s the West wrestlers have worn gold uniforms and have worn purple since the early 2000's.
In 2011, the West wrestlers sold lollipops to raise money for a new, fresher look on the mats. Enough money was earned to buy new black uniforms with a giant T-bird on the side for duals and semi-finals of tournaments, and new gold uniforms with purple stripes around each leg, for championship rounds.
The purple uniforms will be used in all tournament rounds besides Semifinals and championship rounds, and the old gold uniforms will be used as a 'throwback' uniform for the Bellevue East v. Bellevue West dual on Dec. 8 and Jan. 22 at Bellevue East.
The junior varsity also has new uniforms this season. Before the duals, the T-bird wrestlers will warm up in style, sporting purple jumpsuits with gold stripes on the chest. The material for all the new uniforms is a stretchy, breathable material unlike the former uniforms, which consisted of a heavy lycra.
The T-birds have two home duals this season, v. Bryan on Dec. 11th and Papio-Lavista South on Jan. 31.
 Nick Wilkinson
West Wind Sports Editor