Bellevue West hosts free wrestling clinics as part of "#BeKind" initiative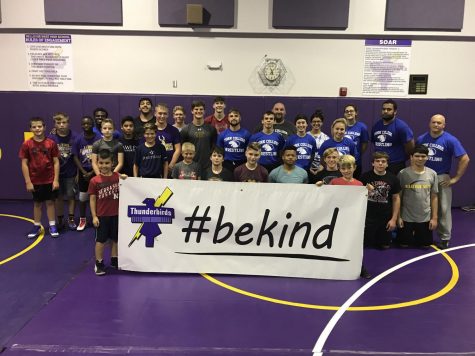 This year the wrestling team is partnering with the Bellevue Food Pantry to help spread kindness around Bellevue in association with the "#BeKind" initiative.
At the beginning of the year Principal Kevin Rohlfs asked all of the school organizations to decide on a goal that would help contribute to the "#BeKind" initiative. Head wrestling coach Curtis Gocke decided to hold free clinics where college coaches would come in and teach new moves and techniques to any wrestler from elementary school to high school. To tie in with the #BeKind initiative Gocke suggested that the boys bring in a canned good to donate to the food pantry each session.  
These free clinics are not only giving kids an opportunity to get into the wrestling room with college coaches but also benefiting the community by donating to a local organization.
"Got to give a lot of credit to the college coaches because they're giving their time too," Gocke said. "They're not asking for any money, they're not asking for anything other than just an opportunity to be apart of the clinic."
The clinics are taking place six Saturdays this school year Sept. 22 through Oct. 27. Each session is averaging about 25 wrestlers. Concordia University head wrestling coach Levi Calhoun said he believes it is a great opportunity for the wrestlers to get some exposure to different techniques and skills.
"Basic skills in wrestling and just trying to make sure that they gain more tools to help them be successful throughout the year," Calhoun said. "So nothing too fancy just trying to help them get better at wrestling."
Gocke has not only held these free clinics, but also has made sure the boys have participated in other activities to prepare for the season, like summer workouts and other wrestling camps. Junior Cody McCann said he can tell that Gocke really cares about him, the other wrestlers, and their success.
"He gives criticism helpfully, likes he's not telling us what we're doing wrong but he's telling us what we can do better," McCann said. "His coaching has made me take criticism better  because I used to just get mad but he's showed me that he's trying to help, not hurt what I'm doing, so he's improved that."
Activity Director Jon Mauro said he believes that a lot of time and effort put in by coaches will lead to great results and success during the season.
"It's all about you know work ethic, how much time can you put in, how many kids can you get out, how hard can you have them work, and those things have all stood out to me," Mauro said. "Those kids are here all summer, they were at camps all summer all over the region, team camps, individual camps, he holds these Saturday clinics now, there's a ton of offseason work being done. So it's all about how much time and energy you want to put in. I think he's getting the kids to buy in and he's willing to put in whatever it takes to be successful."