Ditch the dance for other fun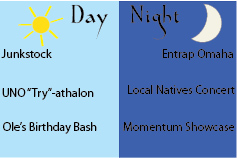 Put the stress of dressing up, the money spent on materials you may never use again, and missing out on actual fun because of how anxious you feel altogether, prom may simply turn out to be a bust.
Thankfully, there is no one around who is going to force you to go. April 8 is still a few weeks away, so with a little pre-planning and a small wad of cash, you may be able to save yourself from splurging on expensive clothing, as well as the pressure of having to present yourself on "the night of your life."
Daytime
If you want to spend some time out on the town before sundown, consider the following: The UNO "Try"-athlon, Junkstock, and "Ole's Birthday Bash" at Lauritzen Gardens.
The UNO "Try"-athlon is an event catered to both trained athletes and the general public. Distances are up to 200 yards in swimming, four and a half miles in biking, and two miles in running. Events start at 7 a.m. and the early registration fee (ends March 29) is $15, which includes a t-shirt.
Junkstock is a three-day event, opening earliest on Saturday at 9 a.m. At Sycamore Farms in Waterloo, NE, the event is catered towards a "festival" vibe, offering food, live music, as well as vintage finds. Admission is $8 online and $10 at the gate.
Nighttime
For anyone who wants to spend the day getting ready (as per the usual prom routine), some dates to check out are the Local Natives concert and Momentum.
Local Natives, an indie rock band, will perform at the Slowdown in Omaha. An all ages event, tickets start at $25. Doors open at 8 p.m., and the band will perform at 9.
"Momentum" presented by Ballet Nebraska is a showcase of various ballet performances and diverse types of dances. The night begins at 7:30 p.m. and takes place at the Arts Center at Iowa Western. Tickets range from $17 to $43.
Of course, no one is limited to these events specifically. Checking the Omaha World Herald for events happening locally is never a bad idea. Visiting Facebook pages of your favorite coffee shops and museums are also helpful. Sometimes a night is made with some good pizza and classic flicks. Visiting the next town's library, though it may sound boring, could really surprise you. Keep your mind open, and remember that prom is only one evening in a million.