Thunderbirds qualify all divers for state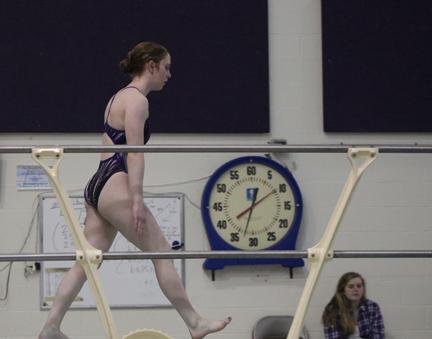 Bellevue West has qualified 100% of their divers for the state diving meet on Thursday, February 23. The team is only made up of three members, but has still managed to be one of, if not the best unit in the state.
Senior Cole Armagost transferred to West after winning the state championship in North Dakota, Junior Jessica Warak is looking to defend her girls diving championship that she claimed last year, and Junior Kyla Balaberda will be looking to win her first state title.
With Armagost winning state in North Dakota, he noticed the difference between the two states.
"It was definitely a change moving from a big diving team to a smaller team, but there's a lot of support here, and good coaches,"Armagost said.
While Armagost has been adjusting to Nebraska, Warak was working to improve after reaching the pinnacle of the sport.
"I tightened up my form, and have been jumping higher, and going to practice more often," Warak said.
Warak wasn't the only one who put in work in the off season; Armagost trained as well.
"I am a lot more consistent, I am stronger, and I did a lot of lifting over summer," Armagost said.
Warak was the first Bellevue West female diver to win state diving since Kris Binder did 27 years ago.
"It was a great feeling, knowing you could bring it back to your school," Warak said.  "There isn't really a feeling like it."
If being the top two divers in the state doesn't bring enough competition in itself, coach Peter Charles acknowledged the competition between the two.
"Jess and Cole push each other quite a bit, just because they are so good that they want to do as well as the other," Charles said. "Right now Jessica is leading the score of both boys and girls in the state of Nebraska, and Cole is right behind her so she is pushing him that way."
While Armagost and Warak have been gaining much of the attention, Charles appreciates Baleberda's dedication and work.
"Kyla brings leadership and experience to the team," Charles said.
Balaberda may help her fellow divers, but she also has goals for herself.
"My motivation this year is to place higher than 10th at state," Balaberda said. "Both my freshman and sophomore year I placed tenth at state, and I really want to get on the podium this year."
Balaberda's relationship with Charles has instilled confidence in her as a diver for Bellevue West.
"My coach is not only my coach he is also my friend, he knows what I can do," Balaberda said.
Athletic director Jon Mauro said he is proud of the diving team's feats, qualifying three divers for state.
"It is pretty special," Mauro said. "It shows what kind of kids we have here."