Abelardo's: small, simple, and worth the eat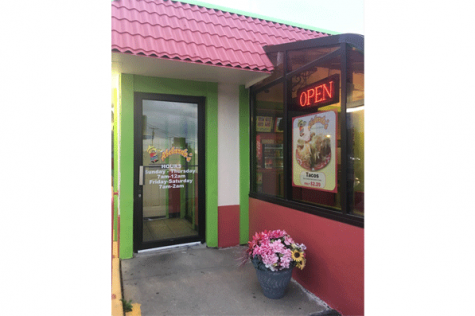 As I opened the glass door a bell rang and I was greeted with an appetizing smell of Mexican food. I walked through the small entryway and took a look around, which didn't take long.
Two sections of seating held only a couple groups of customers talking quietly and watching a recap of the latest baseball game. Scanning the four menus on the back wall, I walked toward the front counter to place my order, when the only waitress working uttered a friendly "Welcome to Abelardo's."  
Bellevue's Abelardo's is known by locals for its authentic Mexican food, fast service, and food that's full of flavor. I was impressed with the atmosphere of the restaurant. The size is small but cute and was a perfect place to go after school and socialize with a friend.
It had a fast food restaurant feel when ordering. When I got my food, it was served on a red tray, where I then went to the table where the silverware, straws and napkins were available. Beside the utensils was a bin full of complimentary fresh chips and salsa, which was a unique addition.
What I enjoyed most about the atmosphere was the noise level. It wasn't a bombarding sound of talking or the sound of dishes clinking together. It was a comfortable sound where I felt at ease, but I was still able to to talk to my friend at a normal level without feeling too loud.
The food was everything I expected it to be. I have heard great reviews on this, so the great taste was no surprise to me. I had the number five: a taco, an enchilada, and a side of rice and beans. The enchilada had a lot of sauce on it. I loved it, and the extra sauce added flavor to it.
The taco wasn't my favorite. The hard shell tasted homemade which was tasty; however, the meat was dry, so I dipped it in the extra enchilada sauce to add more flavor. The rice and beans were my favorite. The authenticity of the taste made it better than other restaurants I've been to. The only problem I had with the food overall was being able to finish it all. The portion for my price was impressive.
After my meal I remembered hearing about their unique drinks that they served. I decided to try their "rice water," other wise known as Horchata, an authentic soft drink. My adventurous tastebuds gave it a try. Comparing it to the other versions of Horchata, Abelardo's makes it a lot sweeter, and had more cinnamon in it. The first three sips I would give a 10 out of 10 would recommend. However, the overpowering sweetness caused me to set it down after those three sips.
Abelardo's is located on 2203 Avery Rd E in Bellevue. Abelardo's building and drive thru is open Monday-Thursday 7 a.m.-12 a.m. Friday-Sunday 7 a.m.-2 a.m.