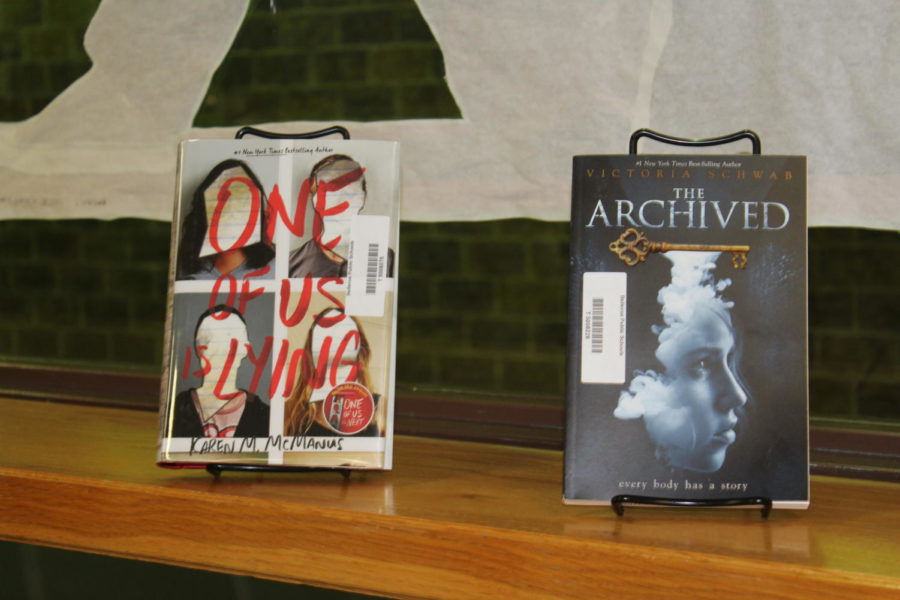 Book Club provides readers more opportunities to read books
Librarian Karissa Schroder started a book club several years ago to provide students a space to discuss and read books outside of English class.
Currently, Book Club holds meetings during GPS  in the library on the first Thursday of every month. 
"At Book Club we sit together at a big round table. And we start off with snacks, and just a little bit of chit chatting," Schroder said. "[Students] are also allowed to lead discussions if they have points they want to make about the book we've read and discuss their opinions."
In previous years, before the COVID-19 pandemic, at meetings students separated into groups to read different titles, so not everyone read the same book. Now, students read the same book by voting through combinations on a list. During the past two months, Book Club has read "One of Us is Lying" by Karen M. McManus.
According to Schroder, students don't need to always attend Book Club meetings. Most students don't actually attend meetings, instead they follow through online discussion boards on Schoology.
According to Schroder, Book Club has had its ups and downs; a lot of students have a hard time starting their own discussions about their opinions on the book being read. This makes it difficult for continuous conversations. 
"Students are a lot of times used to the teacher leading a discussion, so they just were totally not interested in it." Schroder said. "My goal is that students are able to moderate a discussion and I will be present but they carry on without input from me."
Senior Alex Horton has been interested in reading for years, and has been involved in Book Club at Bellevue West since his freshman year.
But for Horton, Book Club isn't just about reading books.
"I feel like the purpose of book club is to further our ability to comprehend literature and be able to look into it and see recurring themes." Horton said. "But my favorite part is just meeting other people who like to read."
In the future, Schroder said she wants to extend Book Club into service projects and host meetings outside of school.
"Being in a book club is something that transfers very much outside of school because it can be an activity you're in for your whole life." Schroder said. "It's really taken a long time to perfect Book Club. But hopefully this year is the year we finally nail it." 
Donate to The Thunderbeat