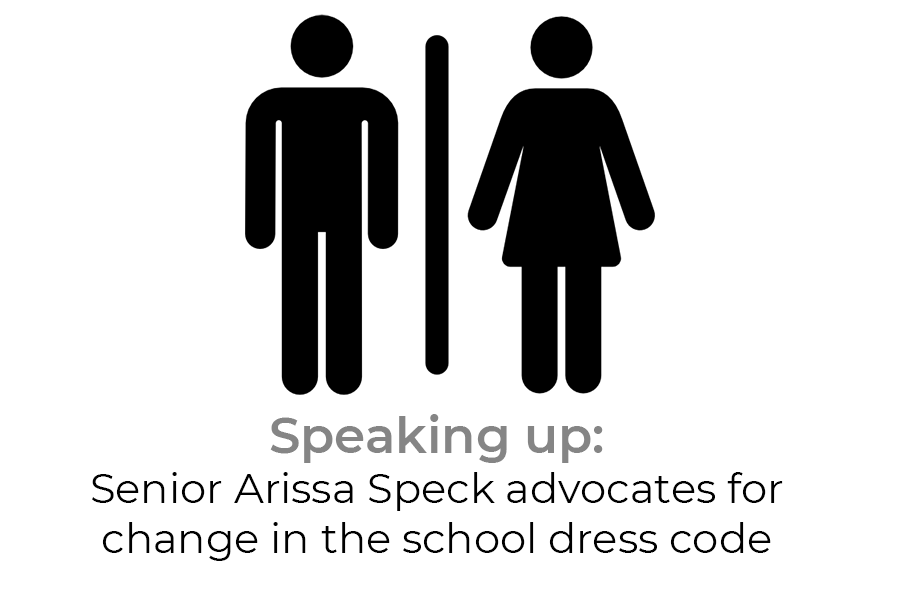 Speaking up: Senior Arissa Speck advocates for change in the school dress code
Senior Arissa Speck is speaking up about the school dress code in the hopes that students will be treated more fairly.
The current dress code, according to dean Ayla Vargas, was written by a panel of  Bellevue Public Schools staff members last spring. 
The reason they changed it is that "a lot of the language that was used is language that was used several years ago," Vargas said.
However, Speck thought that the dress code was still unfair, and that some students, particularly larger girls, were targeted by those enforcing it. She spoke to the school board about it at the Sept. 13 meeting.
"It wasn't until this year that I kind of started to notice things a little more," Speck said. "I have gained weight this year, and I have noticed that I am more often judged based off of what I'm wearing, whereas before I was not."
According to district administrator Rodney Brown, during the 2020-2021 school year more males than females were recorded in the district as being punished for violating the dress code. 
"There were 38 referrals district-wide for dress code violations," Brown said.  "11 of those were female referrals and 27 of them were male referrals."
In addition, there is a discrepancy between the number of kids reported to the district from the middle schools and high schools. 
According to Brown, "Of the 38 referrals 27 occurred in middle schools [and] 11 occurred in high schools."
Speck said that staff members have sent her to the dean's office three times since this school year started, though it had never happened to her before then. She was wearing black sweatpants and a crop top that showed about 1 ½ inch of her midriff when she received the referral.
After being called out by staff for clothing, "you just feel very down about yourself and disgusted with yourself, which shouldn't happen," Speck said. " You should be wearing what you want, [what you] feel comfortable in."
Speck said that she's had confidence issues, and getting sent to the office for what she was wearing had a negative impact on her.
"When I was dress-coded, I felt personally targeted based off my body type," Speck said.
She said that, although she believes that we should have a dress code, she thinks that it should be limited to offensive clothing.
"What I choose to wear to express myself does not indicate my intelligence nor how I should be treated," Speck said.
Donate to The Thunderbeat